When it comes to tree felling, we have the skills and knowledge to ensure that each job is carried out safely and efficiently. All of our work is carried out by expert arborists who have years of experience in this field
There are three main methods of tree felling: direct cut, notch cut, and hinge cut.
The direct cut method is the most common and involves cutting the tree straight through at a 45-degree angle.
The notch cut method involves making two cuts, a top-notch and a bottom cut. The top-notch is made first, followed by the bottom cut. This method is used when there is a danger of the tree falling on something, like a house.
The hinge cut method is used to control the direction the tree falls. A cut is made on the side of the tree where you want it to fall. This method is used when there are obstacles near the tree that you don't want it to fall on.
After the tree has been cut, the stump needs to be removed. This can be done with a stump grinder and another service that Faversham Tree Surgeons offers.
We can provide you with the best tree-felling service in Faversham. Our tree surgeons are highly trained and experienced. We have the necessary equipment to fell any tree, no matter what size. Contact us today for a competitive free quote and to discuss your project.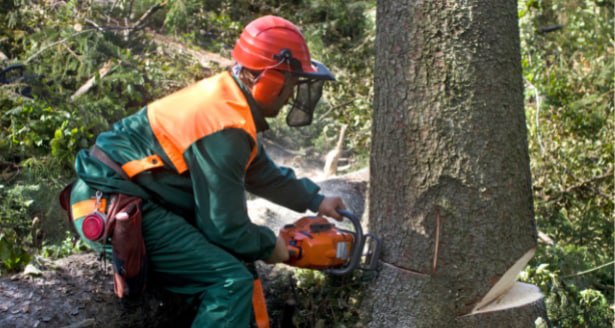 What is tree felling?
Tree felling is the process of cutting down a tree. This can be done for various reasons, including clearing land for development, removing a hazard, or harvesting timber. Whatever your reason for requiring tree felling you can be sure that Faversham Tree Surgeons have the expertise to get your trees taken care of promptly.
Is tree felling regulated in the UK?
Yes, there are laws and regulations to protect trees and ensure that tree felling is carried out safely and responsibly. to discuss this in more detail please call us anytime and we will be able to advise you on the exact requirements for the scenario that you have.
How do I get permission to fell a tree?
You will need to apply for a felling licence from your local authority if you want to fell a tree that is protected by Tree Preservation Orders or is located within a conservation area; again please feel free to contact us to discuss the process and we will happily advise you of the procedure.
How much does it cost to fell a tree?
The cost of tree felling will vary depending on the size and type of tree and the location and accessibility. If you would like a free survey carried out then please contact us and we will arrange a time that is convenient to carry one out.
What are the risks of tree felling?
Tree felling can be dangerous if it is not carried out correctly. There is a risk of injury to yourself and others and property damage. That is why it is much safer to higher a professional company that has the skills and expertise to take care of your needs promptly. Faversham Tree Surgeons have the necessary skills.
What are the benefits of tree felling?
Tree felling can provide many benefits, such as improving safety, increasing sunlight and air circulation, and opening up views. It can also be used to harvest timber or clear land for development. There are countless reasons why you may need a tree felled; and whatever they are please contact us to arrange a survey.
How can I find a reputable tree surgeon?
You have found one already !! But if you decide for any reason not to use us, then always use a professional tree surgeon who is experienced and qualified. You can ask for recommendations from friends or family or search online for tree surgeons in your area. It is also worth remembering that the cheapest option is not always the best. A little due diligence can go a long way.
What should I do if I have a Tree Preservation Order?
If you have a Tree Preservation Order, you will need to apply for a felling licence from your local authority before carrying out any tree felling. The best thing to do is call us and we can walk you through the process. It is something we have dealt with on many occasions and we will be happy to help.
What are the penalties for illegal tree felling?
The penalties for illegal tree felling can be severe and include a fine of up to £20,000 or up to 6 months in prison. Always make sure you have the correct permissions before carrying out any tree felling. We will only ever carry out approved works to current regulations, so you can rest assured that we have the best intentions with all works we undertake.
I've had issues with an oak tree for some time, and have had various tree surgeons assess it, but most were either unsure how to tackle its removal or their prices were exceptionally high. After speaking to Kanye, he promptly arranged a site visit, and worked out a plan of action on how to remove it. I would totally recommend him to anyone looking for a professional arborist.
Kanye has been attending to my hedges and tree felling needs for some time now.
He is reliable, trustworthy, and takes great pride in everything he does. His knowledge is also vast.
I can honestly say it is a pleasure to have him working for me. 10/10 from me!!
We cover all of Faversham and the surrounding areas of Kent. If you found our site by searching for 'Tree Surgery near me' or 'tree felling near me' then we almost certainly will cover your area too.
Whatever your requirements are, please do get in touch and we will take care of your needs swiftly.